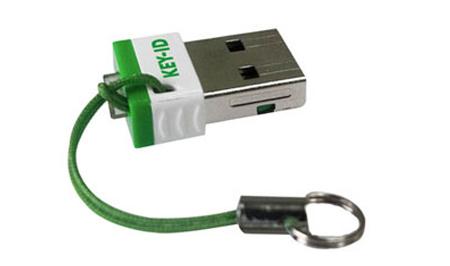 Why choose this product?

One key for all FIDO U2F cloud services
A single key can be used to secure access to multiple cloud services – each supporting the FIDO U2F authentication protocol, as well as those that have implemented U2F backward compatibility within the more recent FIDO2 Webauthn standard.
FIDO secure sign in standards are widely supported by many popular cloud services, and eliminate account takeovers, with hardware-based authentication.
Defeat phishing attacks
FIDO authentication protocols enforces the verification of message origin, so bogus websites will not be recognised, which makes them thoroughly resistant to phishing and man-in-the-middle attacks.
Works out of the box
No additional software required for fast, easy and reliable authentication to the extensive range of business and consumer services that support FIDO2 or FIDO U2F security.

Specifications
System requirements
Desktop Operating System
Windows, Mac, Linux, Chromebook
Browser
FIDO U2F:
Chrome (version 38 and later)
Firefox (version 57 and later) – U2F support may need to be enabled
Opera (version 40 and later)
Interface
HID (Human Interface Device) via USB Type-A
Security
Data Encryption
ECDSA, SHA256
Hardware Security
Built-in security chip
Operation
Green LED
On continuously: Ready for button-push when required / Off: Un-plugged
Power & environmental
Voltage
5.0V
Power / Current
Standby: 0.09W / 19mA Peak: 0.14W / 27mA
Operating / Storage Temperature
-10ºC to 60ºC (14ºF to 140ºF) /-20ºC to 75ºC (-4ºF to 167ºF)
Dimensions & materials
Width x Height x Length / Weight
14.5 × 7 × 22  mm ( 0.57 x  0.28 x 0.87 in ) / 4.54 g (0.16 oz)
Materials
ABS, calcium carbonate & steel
Compliance certifications & country of origin
Type approvals
FIDO U2F v1.0, FCC, CE
Origin
China
Support
Warranty & Technical Support
24 months, return to base warranty
Free technical support via web and email
KEY-ID's FIDO security key products
FIDO2 key with
Windows Hello
FIDO2 key
with U2F
FIDO U2F key
Native passwordless Windows Hello login with Windows 10
Roaming passwordless FIDO2 login on Windows 10 / Azure AD
Sign in to all FIDO2 enabled cloud services
Sign in to all legacy U2F enabled cloud services
Strong 2-factor public key authentication
Phishing & man-in-the-middle attack resistant
Multiple accounts / services supported on one key
User self-registration for easy issuance
FIDO-certified
Microsoft compatible